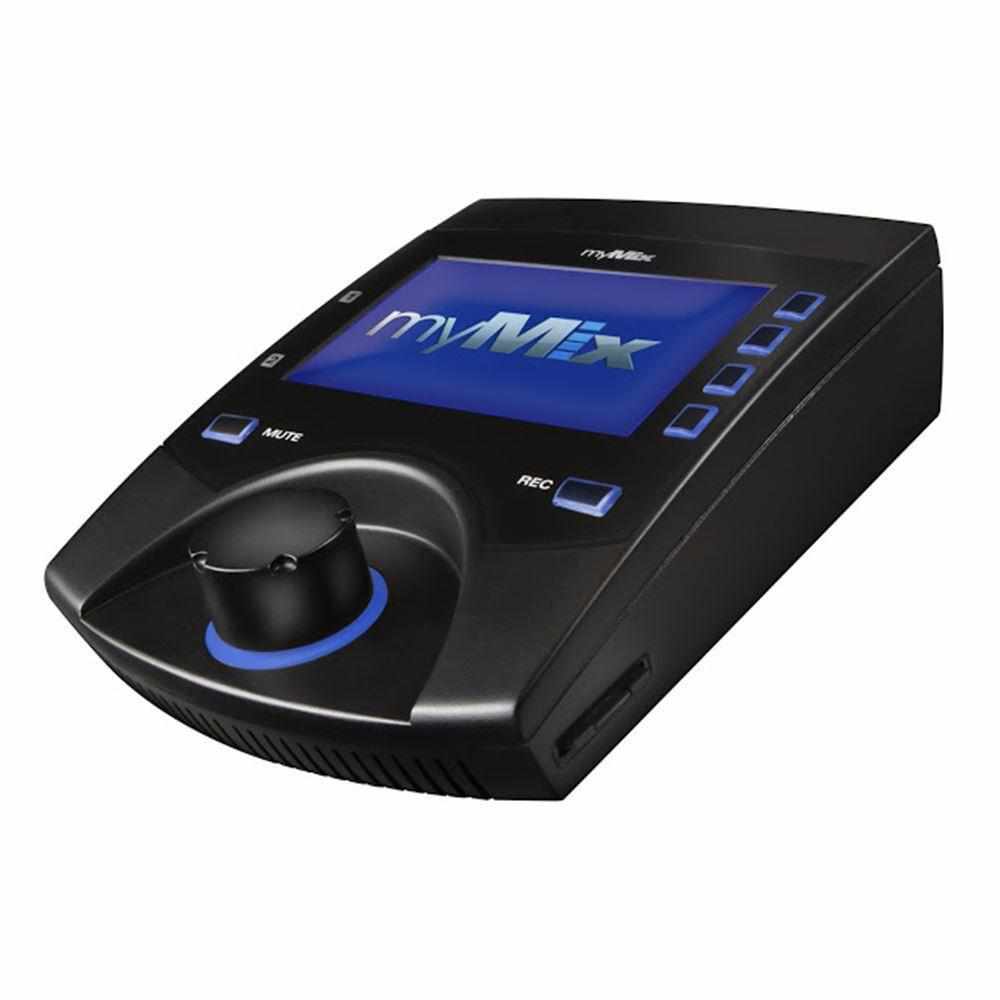 Double click image to zoom in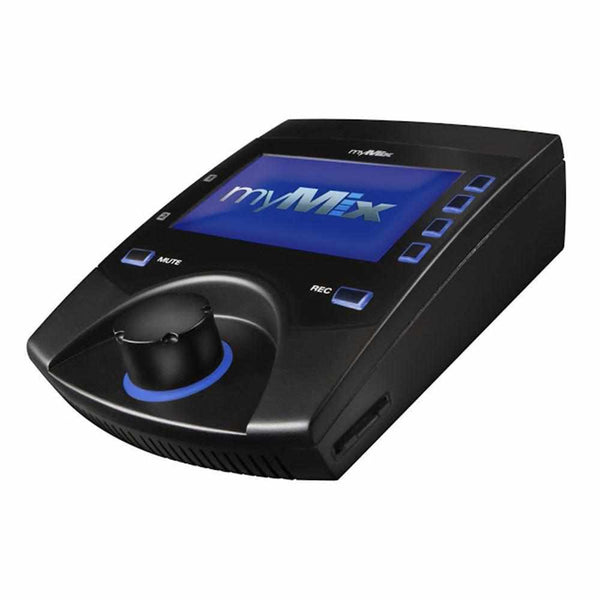 Mymix Personal Mix Station
IN STOCK, Normally ships within 24 hours.
| | | | |
| --- | --- | --- | --- |
| |   Worldwide Shipping  | |  Trade Ins Welcome |
| |   Family Business |    |  Every Guitar - Setup |
| |   Price Match |   |   |
Pickup available at
10 Chequers Court
Usually ready in 2 hours
View store information
---
myMix is a networked personal monitor mixing system that allows each user to create an individual local mix. The system is networked using standard Fast Ethernet (100MBps) switches. 
The myMix personal monitor mixer is the main building block for any myMix system. It can be used stand alone, or connected to an Ethernet switch as a system with up to 250 devices. The user can select from all available audio channels in the network and create an individual stereo mix for headphones, in-ear monitors and (powered) speakers. 
Each unit has two local inputs for microphone or line signals and a stereo master output. myMix units are automatically detected on the network - identified by the names of each myMix and their respective input channels. 
myMix can select individual audio channels from the network and mix up to 16 channels, which can be altered in volume, tone, panorama, solo and mute. Internal effects (including 6 reverb presets) can be added to each input signal. 
The stereo output signal is available on balanced 1/4" jacks and a 3.5mm headphone jack, and can be sent to the network via the ethernet connection. An onboard 4-band, fully parametric EQ can be applied to the output signal.
All settings of the mixer are automatically stored in profiles. Users can record the local mix as well as the individual network signals in multi-track as time stamped 24-bit WAV files on an optional SD/SDHC card. 
Sessions can be played back and remixed. Play Along allows mixing local inputs and tracks from SD card. myMix is powered by the external PSU or via POE (15 W) . The imic stand adapter allows easy mounting to standard microphone stands (included with myMix).
Features
Impeccable audio quality with 24-bit, 48 kHz throughout the system
Create a stereo mix using up to 16 from 500* audio channels
Intuitive User Interface with meaningful channel names
Volume, Tone Control, Effect Send, Pan, solo and Mute per channel
7 integrated stereo effects to create a 3-D sound image
Autosave of all chages applied to the mix, with 20 profiles available.
2 local network inputs (mic/line level) with phantom power
Multi-track recording (16 +2) on SD cards (24-bit wav-files)
Auto saving in up to 20 profiles
4-band fully parametric master EQ
Send Mix to Network to listen to other devices or create submixes
Outputs for balanced line levels and headphones
Ships with microphone stand adapter and power-supply 
*A myMix system can feature up to 500 audio channels (250 pairs) maximum. 
Optional: myMix Studio-Mod
For use in recording studios, the myMix Studio-Mod is also available, a specially modified version featuring a silent cooling system. 
• Personal mixer station for myMix systems.
• Select up to 16 unique channels to mix from all available network channels.
• Adjust channel volume, tone, effect send (from a choice of reverbs or an adjustable delay), and pan without affecting any other station on the network.
• Two mic/line inputs with input gain adjustment, input LEDs with signal and overload indicators (overload indicator also flashes red on channel name), switchable phantom power.
• Two line-level balanced 1/4" TRS outputs and one 1/8" (3.5mm) headphone output. Store up to 20 named profiles on each station.
• 4-band fully parametric stereo output EQ with selectable high and low shelving filters.
• Record up to 18 tracks (16 individual channels + your stereo mix) of multi-track audio to SD card, 24 bit, 48kHz time-stamped uncompressed .wav files.
Our on-line store is open 24/7 and we ship Monday through Friday, excluding bank holidays. Orders received for products without shipping restrictions on its product page will ship the same business day when received before 2:00 p.m. GMT Orders in high demand will have an estimated production time listed on its product page and will ship once we havevtaken delivery. Please contact us for estimated delivery on out of stock items.
Musicstreet is a Family run independent guitar specialists.

We are not just a website......

we have a bricks and mortar store with 100's of electric guitars, acoustic guitars, bass guitars, amplifiers, effect pedals and other instruments and accessories. Backed by our 5-point Customer Service Guarantee our constant aim is to offer our customers the best service in our industry.