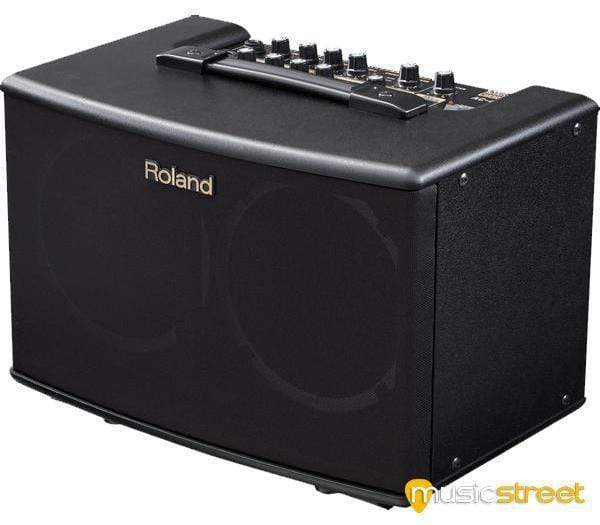 Double click image to zoom in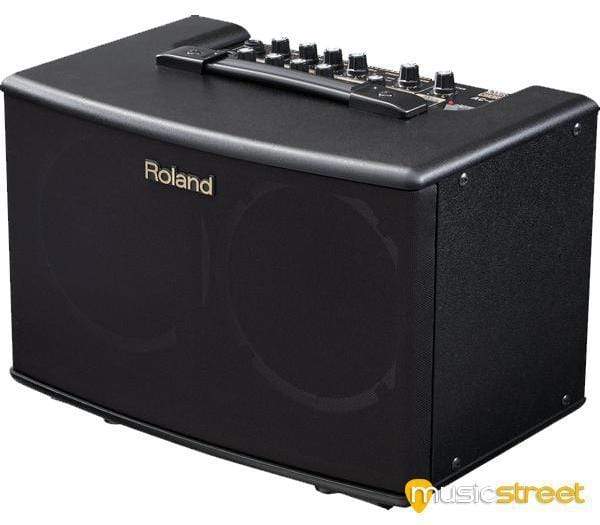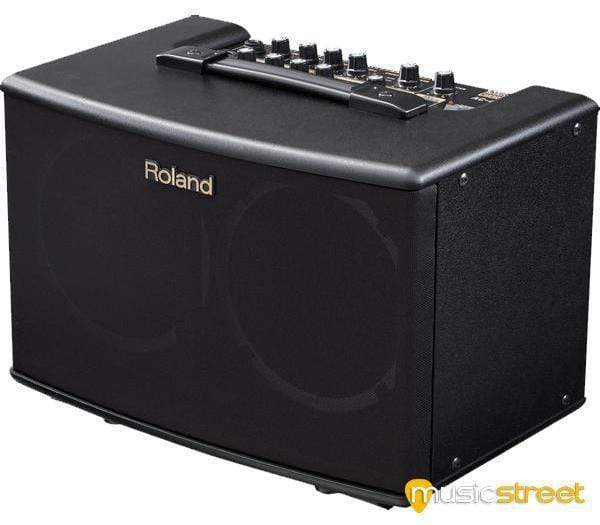 ---
Roland AC-40 Acoustic Chorus Guitar Amplifier
Roland's AC-40 is the ideal amp for gigging acoustic musicians or singer songwriters, delivering pure, natural reproduction of acoustic guitars, vocals and other acoustic instruments. However you use Roland's AC-40, you can be sure this rugged little amp is built to last and ready to perform.
Roland AC-40 Acoustic Amp
The Roland AC-40 is a compact and affordable little amp for acoustic musicians, easy to move and simple to use. The top quality stereo acoustic amplification and Roland's on-board effects can add a professional depth to your acoustic sound. Packed full of handy performance features this amp is ideal for gigging but can also be used for practice and recording too. 
Built For Live Use
As part of Roland's Acoustic Chorus series, it features true stereo output with dual speakers for studio quality depth and dimension that's just not possible with mono amps. The amp's sound is easily powerful enough to support you through gigs in venues such as smaller clubs, restaurants or coffee houses. The handy tilt-back stand means you can angle the amp for better projection giving you even more from the compact size.
At just under 12 pounds or 5.3kg the AC-40 amp is small and compact, ideal for solo performers who have to carry their own gear. This handy amp is also versatile enough to be the only one you'll need as its two independent channels give enough versatility for most professional set ups. The AC-40 features a 1/4 inch jack input for guitars plus a channel with an XLR/TRS combo input for connecting a microphone or line level device. For singer songwriters the amp is ideal for practice and performance with a guitar and mic able to plug in simultaneously. For more sophisticated guitar rigs you could use the two channels to combine two types of pickup or pickup and a mic.
Enhanced Performance Options
The amp's rear panel gives you even more options including a stereo AUX IN meaning you can connect an external music player and balance the sound perfectly with the level control. Use this to incorporate backing tracks into your performances or just to play along to your favourite tracks during practice or whilst learning new songs. The PHONES jack is also ideal for practice meaning you can use the amp without disturbing anyone if needed.
If you're playing in a larger venue the AC-40 can also be used as a personal monitor and the Mono/stereo LINE OUT jacks give you the ability to connect to PA systems or to recording devices - a great way to capture your natural sound along with the amps impressive stereo effects.
Shape Your Sound With Professional Effects
As an acoustic performer its important you're able to shape your own unique sound in order to stand out from the crowd and Roland's AC-40 helps you do just that. Both channels have their own three-band EQ plus independent controls for the high-quality digital Reverb and Roland's famous Chorus. These give your sound a rich, spacious depth that will really add to your acoustic performances. A jack is included on the rear panel for an optional footswitch that can be used to turn the effects on and off.
No More Feedback Worries
One of a live performer's major worries is often acoustic feedback, especially if you play in a lot of confined spaces or if you just like to crank the volume! The Roland Ac-40 has an anti-feedback function to help you out, suppressing any feedback automatically before it causes you any trouble. Simply flip the switch, relax and enjoythe performance.
Features:
Powerful and lightweight stereo amplifier with natural acoustic tone 
Dual custom-designed 6.5-inch speakers deliver impressive sound levels with superior projection
Stereo chorus and reverb effects for rich, spacious sound
Dual channels: GUITAR (1/4-inch input) and MIC/LINE (XLR/TRS input), each with three-band EQ and independent effects controls
AUX IN with level control for connecting music players
Mono/stereo LINE OUT for interfacing with house sound systems and recording devices 
Automatic anti-feedback function
Our on-line store is open 24/7 and we ship Monday through Friday, excluding bank holidays. Orders received for products without shipping restrictions on its product page will ship the same business day when received before 2:00 p.m. GMT Orders in high demand will have an estimated production time listed on its product page and will ship once we havevtaken delivery. Please contact us for estimated delivery on out of stock items.
Musicstreet is a Family run independent guitar specialists.

We are not just a website......

we have a bricks and mortar store with 100's of electric guitars, acoustic guitars, bass guitars, amplifiers, effect pedals and other instruments and accessories. Backed by our 5-point Customer Service Guarantee our constant aim is to offer our customers the best service in our industry.