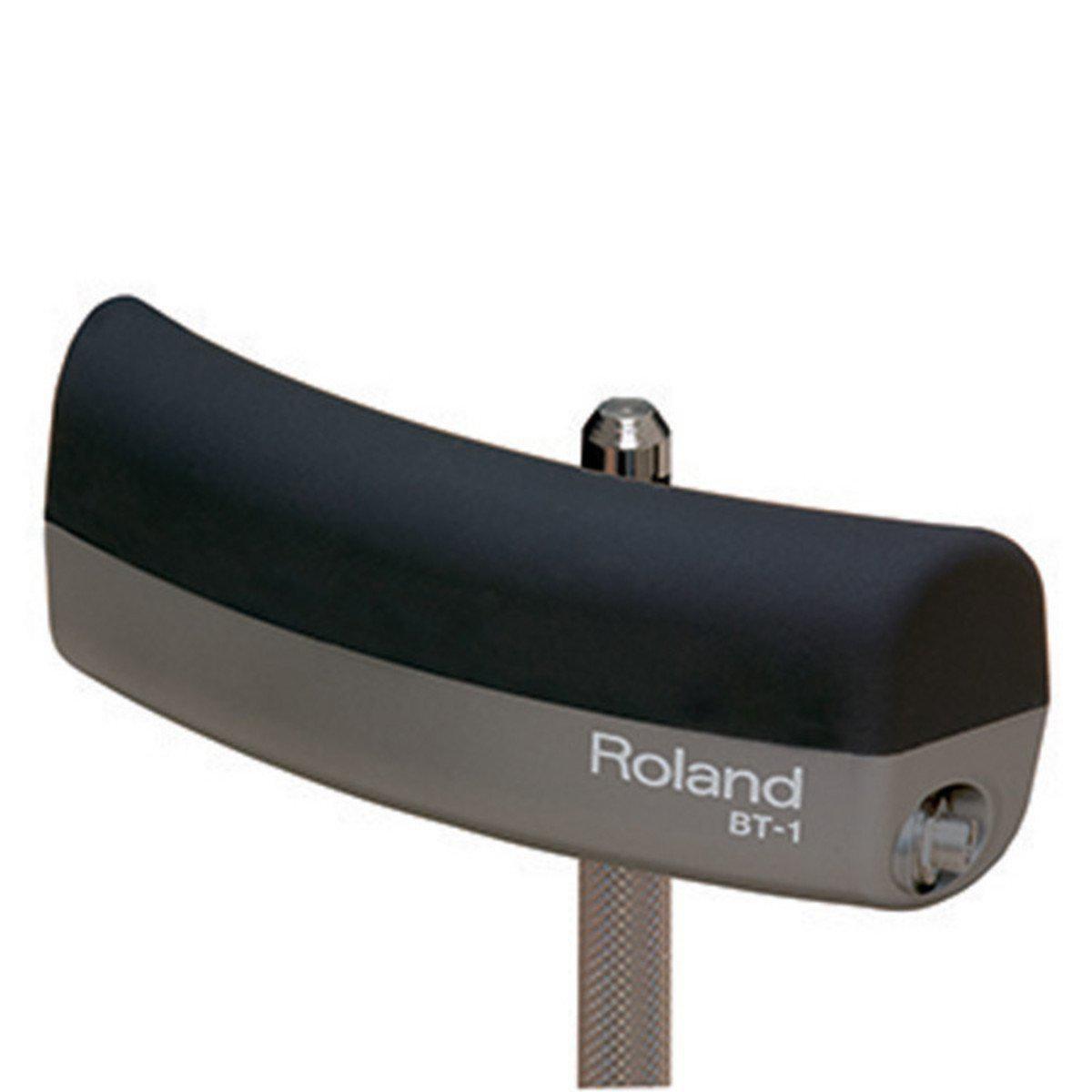 Double click image to zoom in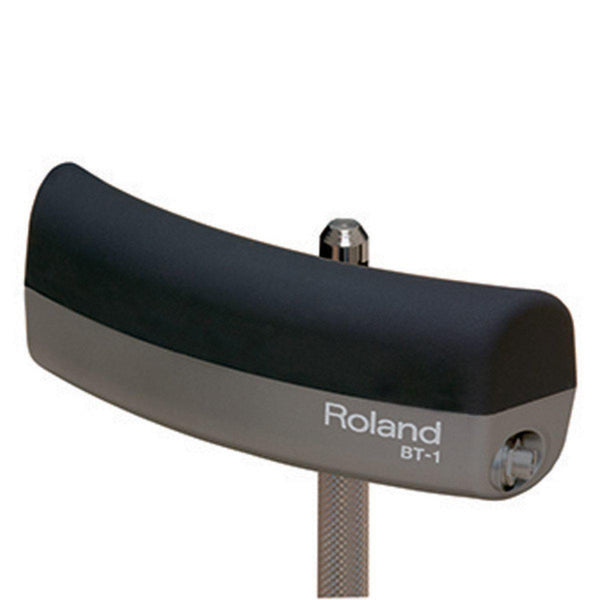 ---
Once installed and connected to a sound source (such as the SPD-SX sampling pad), the BT-1 will enable you to play with new drum sounds or entire backing tracks, all from behind your trusty acoustic drum kit or V-Drums Electronic Kit.
For acoustic kit owners, the Roland BT-1 bar trigger pad offers a simple and affordable introduction to using electronics without jumping headfirst into the world of electronic drum kits. The BT-1 can also be used to add more triggers to an existing Roland V-Drums kit, saving space on the drum rack.
The BT-1 has a curved shape that mounts on the side of an acoustic drum or V-Drums pad, the BT-1 provides a convenient playing surface without the need to reconfigure your existing drum kit layout. The BT-1 is great for playing sounds in a Roland V-Drums module or SPD-series percussion pad, but it can also act as a controller for a variety of functions such as start/stop of backing songs, phrase loops, and much more.
The superior sensors within the BT-1 are tuned to eliminate crosstalk when playing surrounding drums - so you'll only hear it when you hit it.
Adding electronics to acoustic drums
The BT-1 is an easy and affordable way to integrate electronics with your acoustic kit. Unlike large round pads and inconvenient foot switches the BT-1 blends seamlessly with your kit while increasing its capabilities. It can be mounted to your acoustic drums (from 8 inch to 18 inch diameter) or to any rod-type mount (from 8mm to 12.5mm).
Additional triggering for V-Drums kits
If you own a Roland V-Drums kit or SPD-series instrument, the compact BT-1 makes it simple to incorporate additional triggers without having to add more pads to your kit.
Add triggers without reconfiguring your set-up
Because the BT-1 can be mounted to your existing acoustic drums and V-Pads, you can easily add additional triggers without needing to move drums and cymbals to accommodate them. The compact design of the BT-1 provides a solid playing surface to continuously expand the expressive power of your Roland percussion rig.
Features and Specifications
Compact and reliable single-trigger pad
A great way to add electronic triggering to any acoustic kit or additional triggering to a V-Drums set
Curved shape for easy mounting on a V-Pad or acoustic drum kit
Can be mounted to acoustic drums from 8 inch to 18 inch
Easy to attach via a drum tension rod; attachment parts for standard rod-type mounts included
Internal design eliminates vibration which causes false triggering while playing surrounding drums and pads
Trigger: 1
Connector: Output Jack (Stereo 1/4" Phone Type)
Accessories; Owner's manual, Attachment bolt, Spacer, Connection cable
Supported V-Drums Pads: PD-128S, PD-128, PD-108, PD-125, PD-105, PDX-100, PD-85
Acceptable rod diameters: 8.0 - 12.5 mm (3/8 - 1/2 inch)
Dimensions: W 170mm x D 53mm x H 60mm
Weight: 300g
Our on-line store is open 24/7 and we ship Monday through Friday, excluding bank holidays. Orders received for products without shipping restrictions on its product page will ship the same business day when received before 2:00 p.m. GMT Orders in high demand will have an estimated production time listed on its product page and will ship once we havevtaken delivery. Please contact us for estimated delivery on out of stock items.
Musicstreet is a Family run independent guitar specialists.

We are not just a website......

we have a bricks and mortar store with 100's of electric guitars, acoustic guitars, bass guitars, amplifiers, effect pedals and other instruments and accessories. Backed by our 5-point Customer Service Guarantee our constant aim is to offer our customers the best service in our industry.