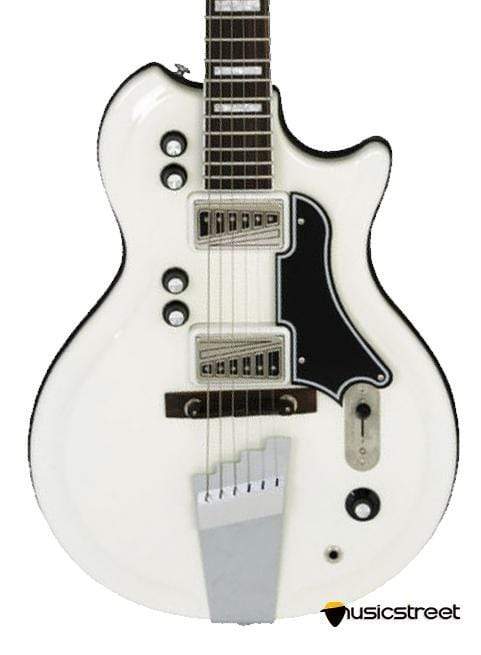 Double click image to zoom in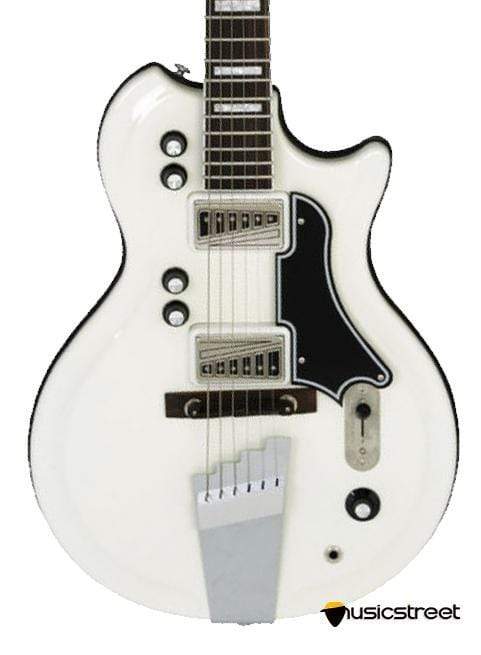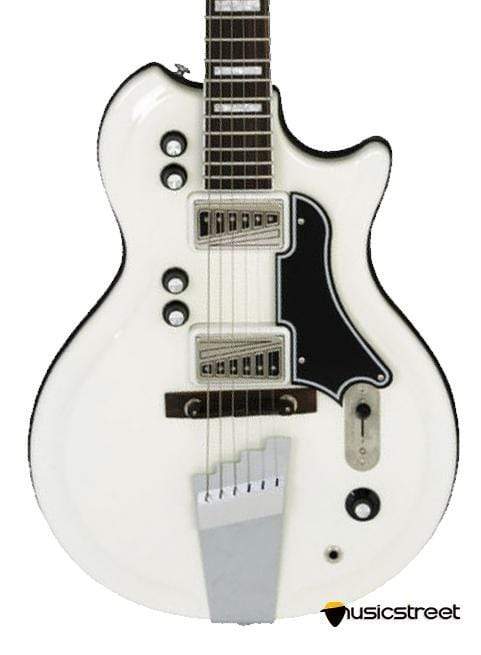 ---
The Dual-Tone is a reproduction of the two-pickup, fiberglass Supro electric guitar that was manufactured in the early 1960s. The Dual-Tone reissue guitar mates a chambered Mahogany back with a newly-developed, composite "Acousti-glass" top. This updated construction preserves the instrument's Art Deco aesthetics and timeless sound while improving its semi-hollow acoustic resonance and tuning stability.
The Dual-Tone's vintage-correct tuners, Art Deco stairstep tailpiece and adjustable rosewood bridge are joined by a faithful replica of the legendary Vistatone pickup to bring you a fully realized and worthy reissue of this classic Supro guitar. The Vistatone pickups found in the Supro Dual-Tone are a reproduction of the groundbreaking, single coil design developed for Valco by Ralph Keller in the early 1950s. The Vistatone pickup is cited as prior art in Seth Lover's PAF patent and is found in many of the most desirable vintage Supro models. 

The Supro Dual-Tone has a powerful, electric swamp-blues tone that is anything but subtle. It's a gnarly sounding instrument that loves tube amps and fuzz pedals of all kinds. The neck pickup sounds huge and wooly, while the bridge pickup has an unmistakable midrange growl that is downright dirty. Our semi-hollow recipe of an Acousti-glass top and mahogany body retains the unique sonic characteristics of the original res-o-glass models while providing today's musicians with a lightweight, highly playable instrument that stays in tune and is easy to maintain.
The Dual-Tone guitar and its relatives in the Americana Series of Supro electric guitars were designed by Trevor Wilkinson and David Koltai to capture the spirit and sound of the Art Deco-influenced, historic line of Supro instruments.
* Remember that every Supro guitar purchased from us here at Musicstreet is perfectly setup in our workshop prior to sale at no extra cost to the customer. By doing this we feel that you will receive the best possible playing instrument which has been thoroughly checked in every respect. If you have a specific string brand / gauge you would like any guitar from us setup with please drop us a note in with your purchase or call in store for your personal setup
Our on-line store is open 24/7 and we ship Monday through Friday, excluding bank holidays. Orders received for products without shipping restrictions on its product page will ship the same business day when received before 2:00 p.m. GMT Orders in high demand will have an estimated production time listed on its product page and will ship once we havevtaken delivery. Please contact us for estimated delivery on out of stock items.
Musicstreet is a Family run independent guitar specialists.

We are not just a website......

we have a bricks and mortar store with 100's of electric guitars, acoustic guitars, bass guitars, amplifiers, effect pedals and other instruments and accessories. Backed by our 5-point Customer Service Guarantee our constant aim is to offer our customers the best service in our industry.