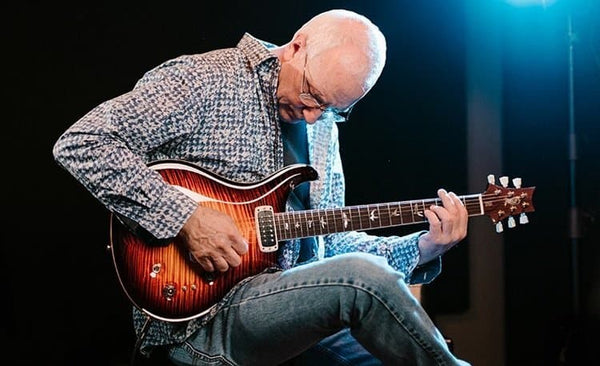 We won't pretend that we've got the largest selection of PRS guitars available in the world
but at Musicstreet we hand pick every American PRS
... only the best make it into the store! - We often spec our own 
Wood Library
 & Private stock Paul Reed Smith guitars for that something extra special.
We'd love you to come in and try a PRS at Musicstreet, and we're told that our hospitality is second to none! - we work closely with PRS Europe to ensure that not only does every guitar arrive to us in tip top condition, but when it leaves us we know it has been through a precision setup and will play exactly the way you want it to. 
PRS guitars epitomize the pinnacle of luxury electric guitars. Each exquisitely handcrafted in Maryland, USA, by the renowned luthier Paul Reed Smith, these instruments have stood the test of time and been embraced by some of the world's most renowned guitarists. With an iconic selection of signature models, the PRS range offers a perfect blend of tone and playability for the utmost in recording and performing excellence.
These guitars are the benchmark for high-spec instruments that look incredible but also sound incredible and are some of the most reliable guitars for touring and gigging musicians.
PRS is widely recognized as a leader in the guitar industry, consistently pushing boundaries and inspiring other brands to keep up with their innovative approach.

Feast your eyes on the Paul Reed Smith collection: the perfect choice for players looking for incredible tone, performance, and style. With signature guitars from rock legends like Mark Tremonti, Mark Holcomb, and John Mayer, you can shred with the same sound of your favourite artists! Start your musical journey today!


Experience PRS's impressive craftsmanship

with custom-crafted guitars featuring exquisitely figured wood tops, vibrant colours, and hand-wound pickups designed by founder Paul Smith! Be inspired by the iconic Custom 22 or Custom 24, or try the more affordable SE range and unlock PRS's unparalleled sound. Get ready to rock!
Paul Reed Smith still has incredible passion when it comes to building quality guitars. From day one he has pushed boundaries when it comes to refining what a guitar should play and sound like. Based in Maryland,
PRS Guitars
employs a team of enthusiastic & dedicated luthiers with a wealth of knowledge and experience in guitar building. PRS recently celebrated their thirty fifth year anniversary, continuing to approach their guitars with the same ethos - using the best quality materials and creating instruments that will stand the test of time.